DIRECTOR OF PROGRAM
As I will be your personal contact from the time you make your first enquiry until the last day of your course, I would like to briefly introduce myself. My name is Alexandra von Rohr. In 1995, I founded the TREFFPUNKT language institute in Bamberg, which I led as institute director for 20 years. To get an idea of the institute during this time, take a look at our book celebrating our 20th anniversary.
During this period, we also launched two new programs: learning German via Skype www.traingerman.com in 2008 and the language program Home Tuition – Learning and living in your teacher's home in 2010.
In 2016, I passed the TREFFPUNKT language institute on to a colleague. While the institute is still running in Bamberg, I have taken over the two individual training programs (online learning and home tuition) as part of a separate language school: TREFFPUNKT-ONLINE.
Your stay as part of the Home Tuition Program will be a super-intensive course in your teacher's home, where you will gain a unique insight into both the German culture and the German language, with your teacher as a constant language advisor. Online learning complements this program, enabling you to develop your German language skills before or after a home tuition course at times that suit you. I'm a great fan of both programs! Home Tuition is really authentic learning in an environment where German is spoken around the clock. And the flexible time-space format of the individual online lessons fits in perfectly with the demands of the world today.
I have enjoyed working with companies and private clients in the language industry for 25 years. This experience is invaluable in helping me to advise you in the planning and selection of your home tuition. I will make it a priority to tailor the course to your individual requirements and will be happy to answer any enquiries you have at any time. Your booking will be carried out professionally and efficiently and you will receive personal attention before, during and after the course.
Please feel free to contact me by phone, online or in writing.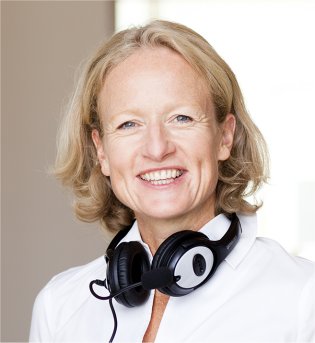 Contact me!
With best wishes from Bamberg/Bavaria Alexandra von Rohr