HOME TUITION – a premium program
On this program you will be speaking German around the clock, learning to use it in real situations. Home Tuition in Germany means not only learning German with your own individual teacher, but also living in their home with their family. As a result, rather than learning German as a language tourist, you learn the language as a member of a German household, where German is spoken 24 hours a day. Read More
The Home Tuition Program comprises 3 key elements:
One-to-one lessons – in the mornings and (depending on the course selected) also afternoons 
Practical sessions – conversations and discussion during all meals and as part of the leisure program 
Leisure program – experiencing Germany's culture and local flavour up close 
In the lessons, it is the learners who determine the focus. Language skills are developed according to individual goals in terms of speaking, listening, reading, writing, vocabulary, pronunciation or grammar. We also adapt our teaching to the appropriate language level, individual learning rhythms and specific requirements. Lessons begin after breakfast and continue until lunchtime, with a short mid-morning break. Afternoons are reserved for leisure activities or (depending on the course selected) more lessons.
We offer 7 German courses, each differing in terms of course content and number of lessons. The number of one-to-one lessons per week varies from 20* 45 to 38* 45 minutes, plus practical sessions and leisure activities.
Courses for youth
| Course No. | Course topics | Lessons  per week |
| --- | --- | --- |
| 1 | | 20*45 min.   |
| 2 | | 26*45 min. |
Practical sessions
If you opt for this program, we assume that you would like as many opportunities to speak German as possible. You will therefore eat all meals with German native speakers. At breakfast, lunch, dinner, and times in between, you will always have the chance to speak and to join in general conversation and discussions. This familiar environment will give you the chance to put what you have learned into practice.
Leisure program
There are 3-4 activities during the week and if you stay 2 weeks or more, there will also be 2 activities on weekends. Let us know in advance what you are interested in: cities, countryside, nature, culture, food, literature, museums, music, hiking or sports activities? Would you enjoy a drink in a beer garden, brewery or wine bar or an evening at the theater or concert hall? Or would you prefer to relax at home? Do you like sport? If so, which sports do you like best and how often would you like to do them? We will be happy to take all your preferences into account when choosing the right teacher's home for you.
Accommodation
You will be given a comfortable single room in your teacher's home. You will also have a private toilet and private sink and usually a private shower. If you prefer, you can also stay in a local hotel and come to the teacher's house for lessons and meals. All accommodation is available with full or half board.
Location
The majority of our teaching families are based in northern Bavaria. The locations we offer are approx. 15 km apart: Bamberg and Forchheim. The two cities are well worth seeing and experiencing. Bamberg has also been awarded UNESCO World Heritage status. Surrounded by forests, hills and rivers, both locations are ideal for sports, relaxing, hiking, sightseeing and going out in the evening. Traditionally this area is a particularly popular holiday destination for Germans.
This may also be of interest!
It is possible to put different weekly courses together. For example combining a General German course with the German LIFESTYLE course German & COOKING, or a Business German course with the LiIFESTYLE course German & MOUNTAIN BIKING.
If you book full board, you shouldn't require too much spending money – just enough for drinks and entrance fees when you are out of the house.
The amount of contact you have with the family is entirely up to you. They will offer you their time, but if there are occasions when you would rather be alone, that is absolutely fine and they will completely understand. 
If you are thinking of taking an exam, all telc exams from level A1 to C2 can be taken in Bamberg. While the exam board offers a number of set exam dates, it is also possible to arrange a date that suits you, provided booking and payment are made five weeks in advance.
Alexandra can be contacted at any time throughout your stay and is always happy to offer support and advice. She will also keep companies and parents updated on any developments that may occur during the course.
And finally: before or after your home tuition course, you can also learn German with us online (via Skype). This can be a good opportunity to prepare for your stay in Germany or to continue your learning progress after you leave.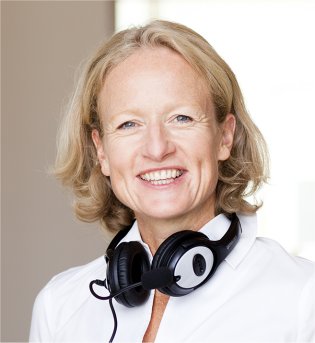 Contact me!
With best wishes from Bamberg/Bavaria Alexandra von Rohr