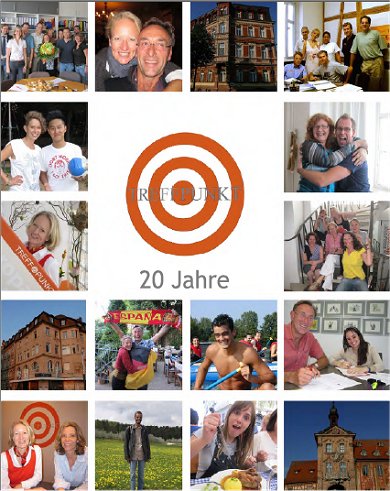 The E-book for the 20 years anniversary to download .pdf, 34MB
SCHOOL HISTORY
1995 – Alexandra von Rohr founded the TREFFPUNKT language institute, an independently operating private language school in Bamberg. It is now a leading supplier for "German as a foreign language" courses in Germany.
2004 – The institute moved into 10 modern rooms in the centre of Bamberg. The school is a real architectural gem with tastefully designed rooms looking out over the canal.
2005 – The course program was extended to include English courses for companies and private individuals. In selecting trainers, special emphasis was laid on authenticity as well as professionalism. As a result, all our trainers are native speakers of the languages they teach.
2008 – The TREFFPUNKT language institute went online. An innovation 13 years after the language institute was founded. Learning languages online via Skype – at that time it was revolutionary. An international automotive supplier company decided to experiment and provide its employees with online language training. It was a great success! Today TREFFPUNKT-ONLINE, an independent offshoot of the original TREFFPUNKT language institute, provides language training via Skype to clients from Alaska to the Amazon, from Madeira to Japan. Read More
2010 – the Home Tuition Program was introduced, representing another addition to the portfolio of TREFFPUNKT-ONLINE, which has been operating independently since 2016. This program offers language learners the opportunity to learn German and live in their teacher's home 24/7. The program is tailored to individual needs and highly intensive. It is appropriate for both adults and young people with a wide range of aims and requirements: Read More
2016 – after exactly twenty years, the school was divided into two independent companies as a result of its size. The German and English courses on site at the language institute in Bamberg were taken over by a colleague. Alexandra, the original founder of the language institute, went on to establish "Sprachinstitut TREFFPUNKT-ONLINE", an independent company incorporating the online language courses and the Home Tuition Program. Read More
2019 – After some good experiences and many enthusiastic course participants, the Home Tuition program for 2019 was expanded and redesigned. This was based on the guiding principle that such an intensive learning program with cultural and leisure activities is frequently chosen with a view to achieving a short-term goal: ranging from preparing for a German exam, to coping with the linguistic-cultural challenge of a job posting abroad, or even to embarking upon a career in Germany (application, CV, job interview). The courses are balanced by a flexible program with an emphasis on cultural and sporting activities.
Being an intensive module, this program is ideally suited as a supplement to language training in your own country, self-taught learning or blended learning with online lessons. If you wish to improve your German with teachers from TREFFPUNKT-ONLINE via Skype, you also have the option to book German-via-skype.com either as preparation or follow-up to the Home Tuition program.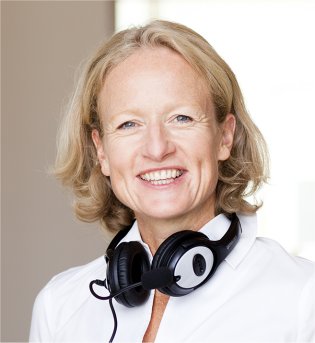 Contact me!
With best wishes from Bamberg/Bavaria Alexandra von Rohr