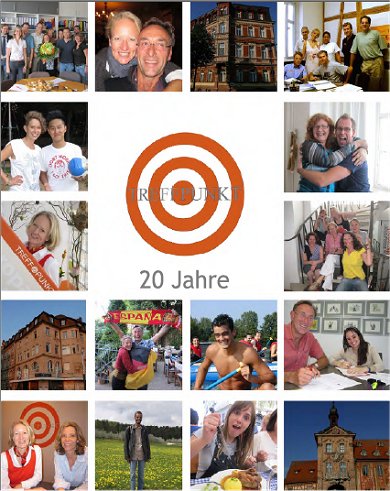 The E-book for the 20 years anniversary to download .pdf, 34MB
SCHOOL HISTORY
1995 – Alexandra von Rohr founded the TREFFPUNKT  language institute, an independently operating private language school in Bamberg. It is now a leading supplier for "German as a foreign language" courses in Germany.
2004 – The institute moved into 10 modern rooms in the centre of Bamberg. The school is a real architectural gem with tastefully designed rooms looking out over the canal.
2005 – The course programme was extended to include English courses for companies and private individuals. In selecting trainers, special emphasis was laid on authenticity as well as professionalism. As a result, all our trainers are native speakers of the languages they teach.
2008 – the TREFFPUNKT language institute went online
An innovation 13 years after the language institute was founded. Learning languages online via Skype – at that time it was revolutionary. An international automotive supplier company decided to experiment and provide its employees with online language training. It was a great success!
Today TREFFPUNKT-ONLINE, an independent offshoot of the original TREFFPUNKT language institute, provides language training via Skype to clients from Alaska to the Amazon, from Madeira to Japan. Adults, students, teenagers and children all take German or English language lessons online. Read more: Clients' goals vary: For adults, it is mainly about improving language for the job or understanding a partner's German-speaking family. Students are often working towards exams like the DSH, TestDaF or telc C1 Hochschule. Young people may require online support to help them follow their German lessons at school or to take the B2 exam. Children who have German parents but currently live in another country may need to develop their written German skills so that they are able to study at a German university later in life.
TREFFPUNKT-ONLINE has both private individuals and working professionals as clients. They are be based abroad, in Germany and particularly in Switzerland.
Online learning achieves its goals. Lessons are not just effective, they are also fun. They are appropriate for learners of any age who require a flexible time-space format. Learn with a well qualified private tutor from wherever you wish, with no fixed course times and lessons that take place according to your own schedule.
2010 – the Home Tuition Program was introduced, representing another addition to the portfolio of  TREFFPUNKT-ONLINE, which has been operating independently since 2016.  This program offers language learners the opportunity to learn German and live in the teacher's home 24/7. The program is tailored to individual needs and highly intensive. It is appropriate for both adults and young people with a wide range of aims and requirements. German for everyday life and work, German for application and interview training or a course with a special emphasis on pronunciation training. Exam preparation for all official A1-C2 exams for adults and young people. German combined with a special interest in the afternoon, e.g. German & Cooking, German & Golf, German & Mountain biking, German & Wellness and the particular popular German & Beer or German & Wine seminars.
The Home Tuition Program comprises three key elements: lessons, practice language sessions during all meals and a tailored leisure program with linguistic support. The goal is to learn German in an environment in which German is spoken 24 hours a day and learners communicate in natural situations. A highly intensive and extremely effective program for language leaners.
2016 – after exactly twenty years, the school was divided into two independent companies as a result of its size. The German and English courses on site at the language institute in Bamberg were taken over by a colleague and became the "Private Sprachinstitut Treffpunkt Bamberg GmbH." Alexandra, the original founder of the language institute, went on to establish "Sprachinstitut TREFFPUNKT-ONLINE", an independent company incorporating the online language courses and the Home Tuition Program. It is still possible to combine the school courses, online courses and Home Tuition Program. Blended Learning is gaining momentum It is no longer just an expression, it is a reality, lived and experienced by many clients. It enables learners to book intensive courses (language school), highly intensive courses (Home Tuition) and flexible and long-term courses (online) according to their requirements. This guarantees essential components of learning, such as quality, continuity and variety.
2019 – After some good experiences and many enthusiastic course participants, the Home Tuition program for 2019 was expanded and redesigned. This was based on the guiding principle that such an intensive learning program with cultural and leisure activites is frequently chosen with a view to achieving a short-term goal: ranging from preparing for a German exam, to coping with the linguistic-cultural challenge of a job posting abroad, or even to embarking upon a career in Germany (application, CV, job interview). The courses are balanced by a flexible program with an emphasis on cultural and sporting activities.
Being an intensive module, this program is ideally suited as a supplement to language training in your own country, self-taught learning or blended learning with online lessons. If you wish to improve your German with teachers from TREFFPUNKT-ONLINE via Skype, you also have the option to book German-via-skype.com either as preparation or follow-up to the Home Tuition program.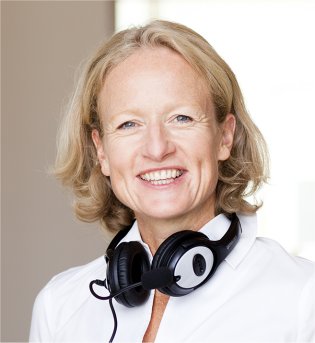 Contact me!
With best wishes from Bamberg/Bavaria Alexandra von Rohr
Contact
Alexandra von Rohr
Sprachinstitut TREFFPUNKT-ONLINE
Schellenberger Straße 20
D-96049 Bamberg
Phone: +49 951 20 44 04
Fax: +49 951 20 44 74
E-Mail:   A.vonRohr@learn-german-home-tuition.com